Note: Please remember that you see an enlarged size of all the photos in this blog by clicking on them!
After the Tsukiji fish markets I hopped got back on the Tokyo Metro subway and headed to Shinjuku (新宿) on the other side of Tokyo to visit the Tokyo Metropolitan Government Buildings, or, as they are popularly known in Japanese, 都庁 (tochou).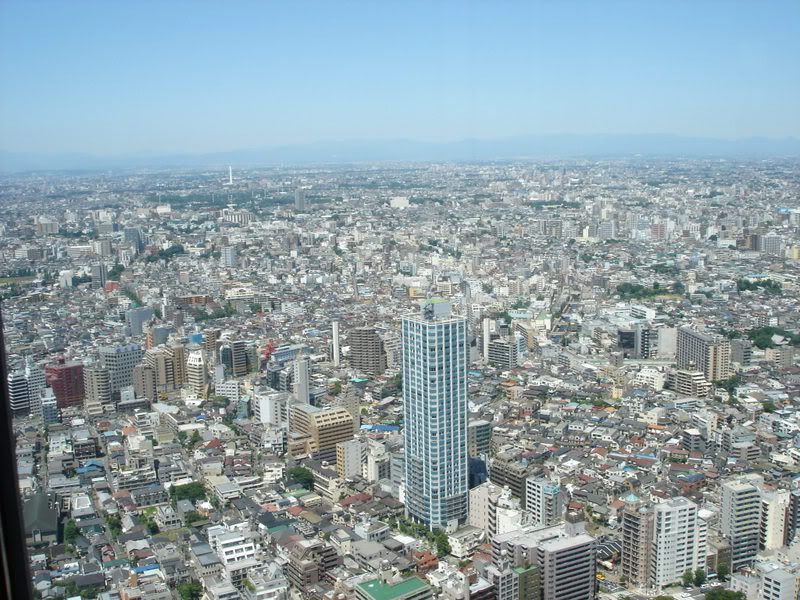 The reason for wanting to check out this place is displayed in the above photo. It is because of the view. There are of these Tokyo Metropolitan Government buildings, but the one that I will refer to from here on out is 'Building 1' (Touchou). Until late last year (06) Tochou was the tallest building in Tokyo. An amazing achievement considering the locality that it is in is known as the 'skyscraper district'. The roof is just a touch under 250 metres above ground so as I am sure you can imagine the view from the top floor (43rd) is excellent. And that is the floor that is open as an observatory to the public for free. Quite a good deal.
And what was that view like? Buildings as far as the eye can see, literally.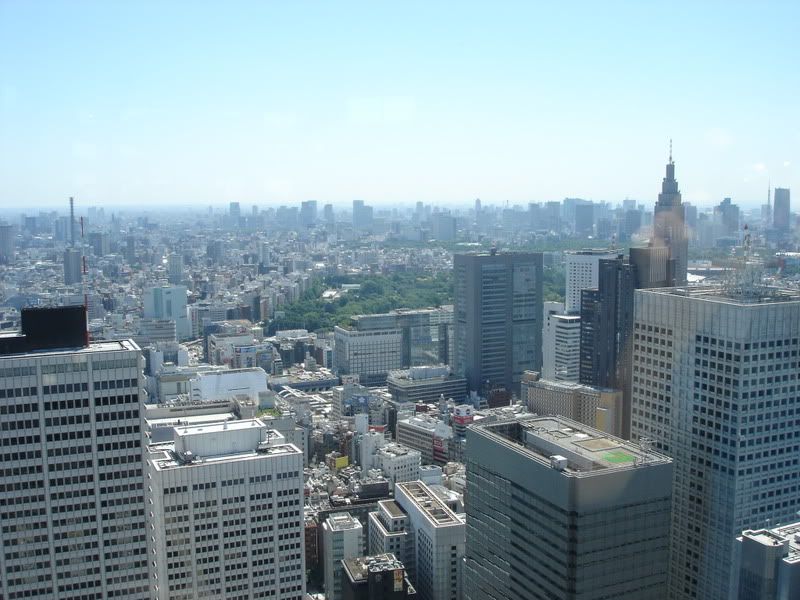 To tell the truth I have actually seen the view from Touchou before, when I went to Japan on a school trip three years ago. On that day it was rainy and overcast though, and because of the height of the building I saw a lot more cloud that I did of Tokyo. It has overcast at least 5/7 days a week while I have been living near Tokyo this time so I was incredibly blessed to find that on the day that I got a chance to once again go and check out Tochou that the skies were crystal clear. It was so clear in fact that I I could even see all the way to the famous 富士山 (Fuji-san, Mount Fuji) in Shizuoka Prefecture. It is the large, snow-capped mountain in this photo.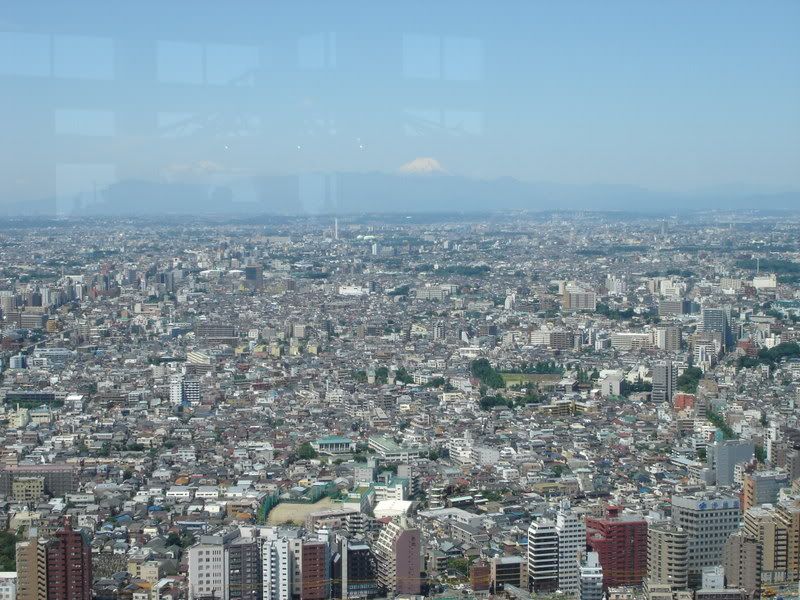 Here is a photo from the outside of the Building No. 1. I guess it does resemble a computer chip. Perhaps.
Just near where I took the above photo I spotted this guy. Considering the insane size of Tokyo I don't believe it was that many homeless people. I would bet good money that it even has half as many homeless people as cities a quarter of its size in the U.S.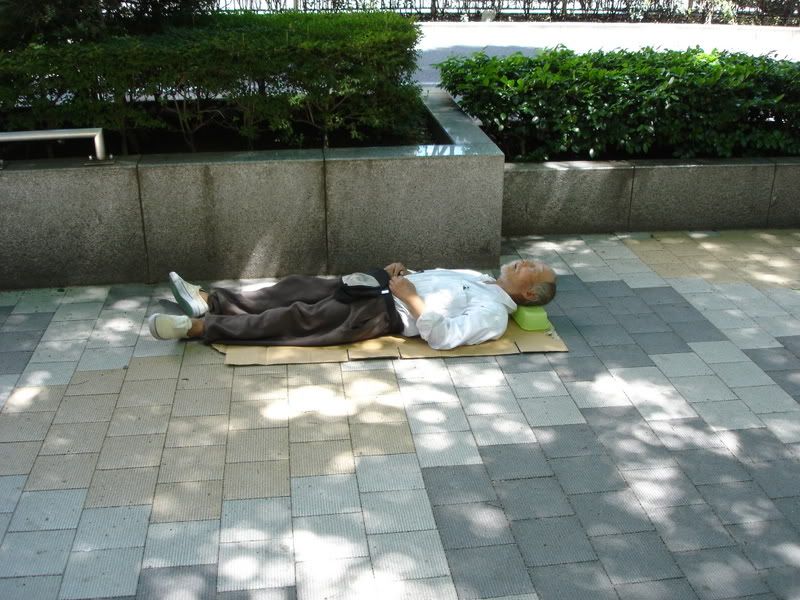 One thing that you occasionally find whilst living in Japan as a foreigner is people wanting to speak to you to practice their English. Learning English is still seen as being fair cool and a lot of tutors and programs (i.e. NOVA) ar expensive and fraught with problems (or at least rumoured of being so in the news). When I was taking photos I had a middle-aged Japanese lady come up to me and offer to take my photo with the view from Tochou in the background in broken Japanese. I gladly obliged, it was very kind of her. After that we had a bit of a conversation (me speaking in Japanese, her speaking in English when she could and Japanese apart from that) about where I was, what I was doing in Japan and other stuff. It was really pleasent. She seemed like a really nice person. It became apparent after a while though that she wasn't planning on cutting this conversation short, so I frankly told her that I didn't have that much time to spend at Tochou as I was meeting friends at Ueno to go to the zoo located there. What suprised me next was that she invited herself along. By now my "Japanese-person-looking-to-score-free-English-lessons" alarm was blaring so I managed to politely decline her and get on my way. Realizing she was rejected she seemed to almost run away from me to the other side of the (wide) observatory, no doubt in hopes of catching another unsuspecting gaijin (foreigner) in her clutches. Haha, I shouldn't speak about her like that though. I'm sure that normal tourists wanting a local to show them around Tokyo would really appreciate her.
Here is one last photo of the view from Tochou. See all of those small-looking buildings at ground level? There isn't one of them that is only one story high, they are all at least ten storeys high I reckon. Just about the same size as the highest buildings of my home town in Brisbane, haha.


Finally, completed unrelated, here is a photo that I took at the train station near my school. I really like how it turned it out: black and white with the girl clinging to her boyfriend on the left while the train track runs from top to bottom on the right. Everyone is peering down the tracks while a slight breeze blows in that direction. I was thinking that it would be really cool to title this photo "What are you waiting for?" but then I realised how obvious it is, they are waiting for a train. Enjoy.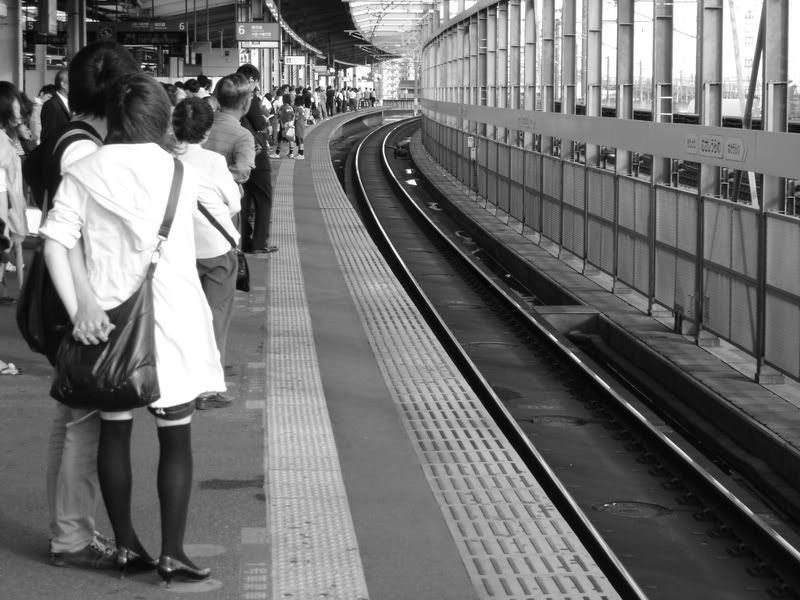 https://www.japancast.net/wp-content/uploads/2014/06/SprawlingUrbanLandscapefromTocho.jpg
600
800
Will
https://www.japancast.net/wp-content/uploads/2014/05/Header_Graphics_Shorter4.png
Will
2007-06-30 17:56:37
2007-06-30 17:56:37
Tokyo Metro. Govern. Buildings (都庁, tochou)